The kokopelli is a sacred figure to many Southwestern Native Americans; a source of wonder for centuries, that represents the spirit of music.
---
Welcome to Kokopelli Press.

We publish and distribute music written by upcoming composers, and deliver it to you immediately by email. Presently there is no charge to download the copyrighted music herewithin but donations are accepted!

Kokopelli Press also presents educational aides including classroom courses, songs and the new online tool Name That Chord!.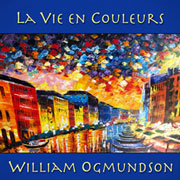 Enjoy William Ogmundson's newly released
exciting and vibrant solo piano album called "La Vie en Couleurs".